Carol Goodman's newest novel about a promising student's death and the secrets hidden at a prestigious prep school…..
THE SEA OF LOST GIRLS
About The Sea of Lost Girls
• Paperback: 320 pages
• Publisher: William Morrow Paperbacks (March 3, 2020)
In the tradition of Daphne du Maurier, Shari Lapena, and Michelle Richmond comes a new thriller from the bestselling author of The Lake of Dead Languages—a twisty, harrowing story set at a prestigious prep school in which one woman's carefully hidden past might destroy her future.
Tess has worked hard to keep her past buried, where it belongs. Now she's the wife to a respected professor at an elite boarding school, where she also teaches. Her seventeen-year-old son, Rudy, whose dark moods and complicated behavior she's long worried about, seems to be thriving: he has a lead role in the school play and a smart and ambitious girlfriend. Tess tries not to think about the mistakes she made eighteen years ago, and mostly, she succeeds.
And then one more morning she gets a text at 2:50 AM: it's Rudy, asking for help. When Tess picks him up she finds him drenched and shivering, with a dark stain on his sweatshirt. Four hours later, Tess gets a phone call from the Haywood school headmistress: Lila Zeller, Rudy's girlfriend, has been found dead on the beach, not far from where Tess found Rudy just hours before.
As the investigation into Lila's death escalates, Tess finds her family attacked on all sides. What first seemed like a tragic accidental death is turning into something far more sinister, and not only is Tess's son a suspect but her husband is a person of interest too. But Lila's death isn't the first blemish on Haywood's record, and the more Tess learns about Haywood's fabled history, the more she realizes that not all skeletons will stay safely locked in the closet.
Review
Here's a good mystery thriller to try and figure out. While I was reading THE SEA OF LOST GIRLS I had no clue who the culprit could be, I wonder if you can do better.
Tess is a teacher at an elite boarding school where she herself had attended. Now her son Rudy, a student there with some "mood issues" finds that his girlfriend Lila is dead, occurring the same night they had an argument and he called his mother to come pick him up from school, only a few miles away from home. When Lila's death turns into a murder instead of an accident, Tess's entire world comes crashing down. Not only is Rudy a suspect, but so is her new husband. As Tess tries to protect her family, she finds that her own hidden past must be revealed to protect the ones she loves.
There are so many characters at play in this novel that it is hard to figure out who killed Lila, and why. Each one of them could be the culprit. Goodman did such a good job bending the story with so many different  characters and twists, that just when you think you know what happened, another clue appears. Tess's backstory ties into the tale seamlessly, and makes the drama all the more exciting. This was quite a thought provoking read that captivated me from the start with a riveting ending. It's no wonder Carol Goodman is a critically acclaimed author.
I really enjoyed this one, it was a quick read for me and I do recommend it. With summer coming I see it as a perfect beach read. Thank you @williammorrowbooks, @romangirl210 and @tlcbooktours for the gifted copy of this book.
Purchase Links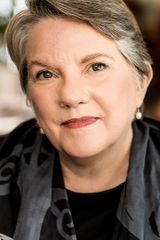 About Carol Goodman
Goodman is the critically acclaimed author of fourteen novels, including The Lake of Dead Languages and The Seduction of Water, which won the 2003 Hammett Prize. Her books have been translated into sixteen languages. She lives in the Hudson Valley with her family, and teaches writing and literature at the New School and SUNY New Paltz.
Author Contact
Happy Reading and Be Nice!